The aluminium foil
In the packaging branch, the aluminium  foil has been playing  an important role for different uses : dairy,  pharmaceutical , decorative and mechanical.
The aluminium foil is produced and supplied through a great coil by the most important world wide producers.
Each coil is wrapped around a carbon steel precise tube.
The high speedy wrapping process requires high quality precision tubes to guarantee the  proper  quality. The wrong wrapping process may cause the breaking of the foil with final result to scrap the entire coil with  money losses.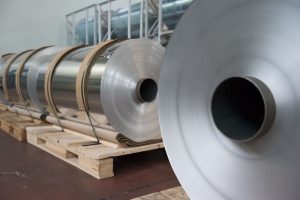 The special tubes  produced by our  partner : Company TECNOTUBI, are manufactured with specific values with tight tolerances in the inside diameter  to guarantee a correct  introduction of the expansion mandrel for a proper aluminum wrapping process
Size dimensions
Inside tube diameter  : 150,mm
Available with following thicknesses  :
3,00mm (Outside diam.  156,00)
4,00mm (Outside diam.  158,00)
5,00mm (Outside diam.  160,00)
6,00mm (Outside diam.  162,00)
On request  following tubes with inside diameter are available :
152,4mm – 70,00mm and 76,10mm