Who we are
R.T.R. is recognized today as a reliable partner in the Italian market for every requirement of high quality level for tubes, systems and fittings in stainless steel and steel tubes thanks to the partnership of prestigious European brands.
The strong factors of our products
Ultra smooth inside surface with low roughness
Surface treatments through mechanical polishing, electropolishing or anodical cleaning
Products suitable for orbital welding
Tight tolerances even in short lengths
Constant quality in the Tig and Laser welding
Constant quality in the annealing treatments
Certification according to the high current norms
Tests with modern equipments
Full tracebility of all products
Executions according customer's specification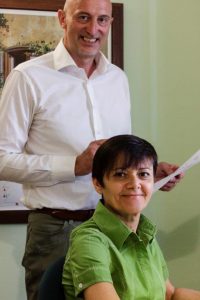 Every day, together with our partners,  we offer our  experience and competence  for customer's satisfaction in compliance with technical and delivery requirements.
Together with our partners we express our sincere thanking to all our customers , especially some of them who have been relaying on us for more than 20 years,  for a mutual satisfactory growth.
History
1993
R.T.R. acronym for Roberto Tomassini Representations was founded in 1993 with the sole agency for the Italian market of the Swiss ARFA Tube mill focused  in the production of stainless steel  precision welded and cold drawn  tubes and of precision welded carbon steel tubes.
1994
Development of precision rewinding cores in carbon steel for the main aluminium foil producers in the Italian and south Europe market with round 3.000 tons per year.
2002
With official comunication for definitive closure of ARFA Steel Division, starts a new cooperation between R.T.R. and the German Tube Mill Schoeller Werk, strong leader in the high production of stainless steel welded tubes for the branch air refrigeration exchangers
The choice has proven successful with large customer satisfaction for a new reliable partner in quality and service
The Swiss tube Mill Zwahlen & Mayr, a leading manufacturer of stainless steel cold drawn tubes, invests in part of the ARFA drawing benches generating a new collaboration with our agency
Thanks to the trust of customers and the constant support of Zwahlen & Mayr the high standard quality level for high sophisticated cold drawn tubes is rapidly guaranteed and improved
2007
Following the cooperation established first with Company Arfa and later with Company Zwahlen & Mayr, R.T.R. develops  a new partnership with the German Company Dockweiler:  one of the worldwide leader supplier of high quality stainless steel systems for pharmaceutical and semiconductor industries .
Through constant investment in sophisticated equipments  and a strong support of the Company Management,  R.T.R. succeeds in a few years to obtain the trust of the  major italian customers.
2013
ARFA Carbon Steel Tube Division is definitely closed by leaving all main European aluminum foil producers without an historical supplier
Roberto Tomassini develops a new partnership with the Italian Tube Mill TECNOTUBI thanks to the willnes of the Chairman Dr. Amenduni who decides to make investments for the production of special winding cores by reaching an immediate quality succesful level.